Digital Marketing Solutions with Efficiency
Coder Tech is a leading service provider of digital marketing solutions services with the best SEO campaigns, link building activities, email marketing, social media marketing, digital advertisements, and app store optimization. Our comprehensive range of digital marketing solutions follow a thoughtful and wise route that works towards bringing more business to our clients by setting them apart in the vast digital ecosystem. 
Our foremost objective is to fulfil clients' online marketing needs. We start with an approach to understanding our clients' requirements and then implementing tailor-made web marketing solutions. To ensure successful delivery of what we promise, we are equipped with a qualified and experienced team of technically capable digital marketing professionals.
SEO or search engine optimizing is a must if you want your website to be visible to internet users. This is the reason that we have a team specializing in search engine optimization. Our clients understand that there is no point in building an expensive and good website until it is visible to internet users. With our expertise, your website is sure to rank well in search engine page results so that people looking for the product or service you provide will see it. 
SMM or social media marketing is a popular form of internet marketing. As the name suggests, social networking sites are used to promote and market products and services in this type of marketing. Our SMM experts produce content that social media users share with their network to enhance their brand awareness and increase the customer reach. The social media has become a formidable force in the internet-driven world of today. This is why we use social media for marketing our client's business where applicable.
Most people who are aware of digital marketing already know about search engine optimization. However, few know about SEM or search engine marketing. In search engine marketing, even the tools used for SEO are used and in fact, both these fields have grown together where SEM is considered an umbrella term that specifies organic and paid marketing. We use SEM for our clients where apt, and this helps to improve the ranking of their site on search engine pages.
A form of digital marekting that entails sending information regarding your products and services via email to your target audience. There are myths that email marketing is no longer effective, but in some cases it can help you hit the pot of gold in marketing. We first analyze our clients' business and then decide whether email marketing will be suitable for them. The mode of marketing can be effective to educate your target audience regarding your company and your products and services in detail.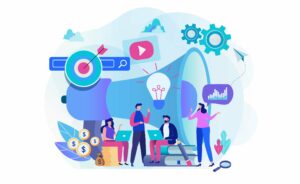 Digital advertising is a wide term that includes mediums like social media, emails, search engine optimization, affiliate programs, mobile apps and websites. In other words, it is any marketing that promotes a business through various online or digital channels. We specialize in digital advertisements that are created to appeal to our clients' psyche of the target audience. Different digital mediums require different kinds of content, and we have in our team experts who can create this kind of content.
As the name suggests, this process is similar to apps what search engine optimization is to websites. In app store optimization, we ensure that our clients' apps appear above others in any app store search results. The higher your app ranks in such searches the more visible it will be to your target audience. This increase in visibility not just encourages more traffic to your app, but also enhances the chances of your visitors becoming your customers. We live in a digital landscape, from shopping to education and from analyzing to purchasing; everything has gone digital. To keep up the trend, we bring to our clients the best possible promotional results.